!-index.html TEXT-> <!-2004-10-29>
Fantastic days in Holland
---
A journey to the Holland in 2003

The members of "lump-proof.com" visited Holland at the invitation of CRT in September 2003. There are nice people, beautiful bikes, and fertile culture about the classic bike.

We had honor of seeing great collection belongs to Mr. Ferry Brouwer. We found many rare precious bikes. But most amazing thing is their engineering skill of a high order about the restoration. Also his philosophy of bike and life had a great impression on us.

We love old small racer more than anything else. A lot of 50cc racer owned by Lexmond motorcycle museum. We have not enough time if we can stay there all through the day. They are slender, delicate, small, and beautiful like a jem. We enjoyed them as if we had read aloudthe verses.

CRT classic motorcycle meeting in Aalsmeer was just a dream for us. Why this club well run, because members of organization is well acquainted and love the classic race. The bikes of entrant are rich in variety. We found very rare bikes, great riders who covered in glory. All the bikes are excellent, and the site was filled with feverish excitement. Pepple went on talking with the bike forever.

We are thankful to all of people they helped us in Holland. CRT officers who invited us, and gave us every facility. Mr. Ferry Brouwer show us great collection. Busy as he was, he made time for us. The director of a museum Mr.Hans van Kleef kept us companany a halfthe day. He permitted me take a photograph, and open to the public in our web-site. Thanks a lot dear my friend Jeroen van der Meer, he transported us everywhere, arranged all of thing, introduce us to a lot of lover of classic race. And we also thanks nice enthusiast we met in fantastic Aalsmeer meeting.

Toshihiko Suzuki webmaster of "lump-proof.com"

---

Slide show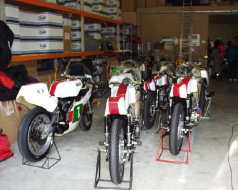 Great collection of Ferry Brouwer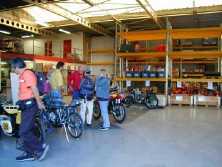 Aalsmeer classic motorcycle meeting vol.1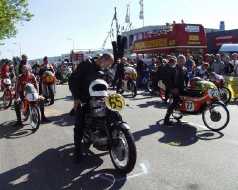 Aalsmeer classic motorcycle meeting vol.2

---