!-index.html TEXT-> <!-UPDATE 2001.9.1->


Snug Harbor Motorsports


Norm Fraijo California

---
In 1967 I raced a Honda S-90 roadracer.Also I raced a 50cc Suzuki MR-43 and in 1968 I rode a CR110 for the entire season here in California. The one I rode CR110 had a silver plastic type fairing and had the magneto removed. It ran direct off the batterey which was mounted under the seat. The MR-43 may be incorrect, because I have heardit referred by other model numbers. It had a blue frame and silver gastank. Also I rode my Yamaha TD-3 and My TZ-250A.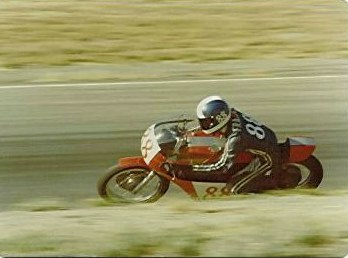 1975 TZ-250 and the photo is from the AMA National at Laguna Seca.

---
Please visit to Snug Harbor Motoeclectica. I hope you enjoy this collection of motorsports memorabilia as much as I have enjoyed putting it together over the years. I've rounded up items from Germany, England, Holland, Italy, Japan, as well as from here in The States. Most of the present collection is focused on the 1960's, which has to be one of the greatest periods of Grand Prix history. It's my intention to expand the catalogue to include tasteful, unique, and downright cool items from other eras of racing as well. I will also be adding more books of interest, some videos, an expanded art collection, and any type of racing ephemera that may catch my eye. Please check often. I'll be adding to and updating the site regularly. I'd love to get your ideas and feedback, so feel free to drop me a note with your thoughts.

Norm Fraijo

---
Copyright (c) Snug Harbor Motorsports 2001
---
Norm Fraijo is not only an owner of "Snug Harbor" shop, but also he was a racing rider, and he is a motorcycle enthusiast now. He is my dear friend. He has a high reputation. I can confidently recommend him to everyone.

Webmaster of the "lump-proof.com"

---
Index Page


Classic Racers