!-index.html TEXT-> <!-UPDATE 2002.6.21->


VAN VEEN KREIDLER AN EXACT REPLICA


ARTHUR LAWN

---
I USED TO RACE A HONDA 50 CRIIO HERE IN THE UK AND I BELIEVE MOST RIDERS OF THAT DAY THE 60S WILL AGREE I HAD THE FASTEST ONE IN THE UK.WAS RUNNER UP BRITISH CHAMPION ON IT IN 1970. UNFORTUNATELY SOLD IT IN LATE 70S WITH LOADS OF SPARES. I DID RACE FOR 15 YEARS AND RACED IN SEVERAL DIFFERENT CLASSES INCLUDINGTHE ISLE OF MAN TT RACES.

---
1971 VAN VEEN KREIDLER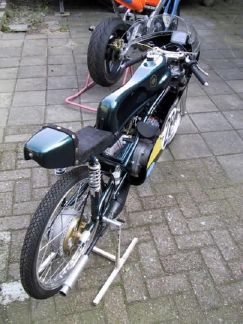 I NOW HAVE A 1971 VAN VEEN KREIDLER AN EXACT REPLICA OF THE MACHINE WHICH JAN DE VRIES WON THE WORLD TITLE ON SOME OF IT ORIGINATED FROM THAT MACHINE.IT PRODUCES AROUND 19BHP AT 16000RPM AND IS IN CONCOURS CONDITION HAVING BEEN RESTORED IN HOLLAND IN 1998.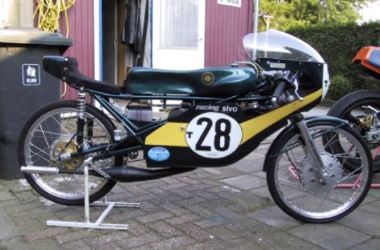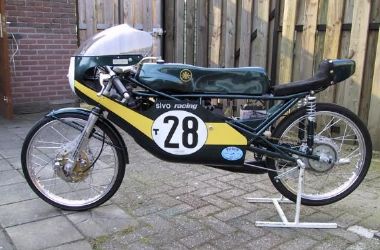 I USE IT FOR PARADE LAPS MY NEXT ONE HOPING TO BE THE ULSTER GRAND PRIX IN AUGUST WHERE I RACED MY HONDA AGAINST THE KREIDLER IN 1969 AND 1970 WHEN IT WAS A WORLD CHAMPIONSHIP EVENT.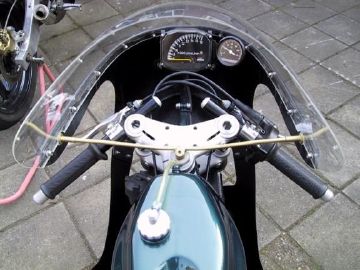 COCKPIT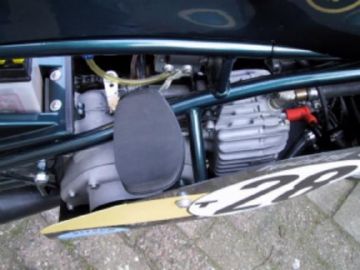 CILINDER


SOME FINE DETAIL THE MACHINE IS 1971.AS PER THE LAYOUT RIDDEN BY JAN DE VRIES IN WINNING THE WORLD TITLE,NOTE THE KNEE RESTS,THIS ALLOWED THE FOOTRESTS TO BE PLACED WELL BACK TO ACHIEVE A LOW CENTRE OF GRAVITY.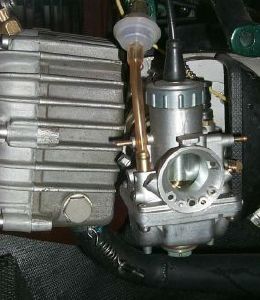 CARBURRETTOR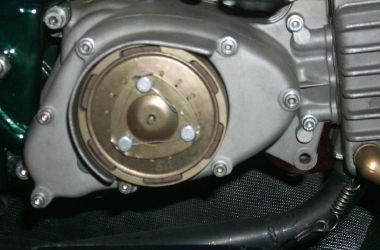 DRY CLUTCH


THE CARBURRETTOR IS 28mm MIKUNI WITH DISC VALVE INDUCTION. IT IS WATER COOLED WITH PUMP,AND PRODUCES AROUND 19BHP AT 16000rpm.THE GEARBOX IS 6 SPEED,THE MAXIMUM ALLOWED, AND IT DRIVES THROUGH AN EXTERNAL DRY CLUTCH.IGNITION IS KROBER ELECTRONIC.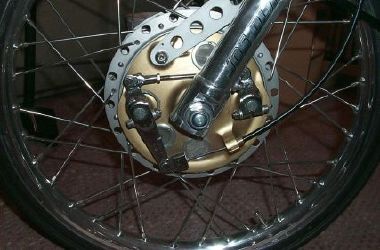 MARZOCCHI FORKS AND 2 LEADING SHOE FRONT BRAKE


THE FRAME IS VAN VEEN WITH MARZOCCHI FORKS AND DIJKMAN SUSPENSION IT HAS 18inch BORRANNI WHEELS WITH 2 LEADING SHOE FRONT BRAKE IT WAS LAST RACED IN 1998 WHEN IT FINISH 3RD AT AN INTERNATIONAL MEETING IN HOLLAND RIDDEN BY THE LAST OWNER.


SINCE THEN IT HAS BEEN PARADED AND SHOWN AND WON THE BEST OVERALL RACE MACHINE AT THE POST T.T. MALLORY PARK MEETING IN 2001.THIS WAS AGAINST SOME VERY EXOTIC MACHINES FROM THE 60S INCLUDING EX WORKS HONDAS AND MV AGUSTAS.

---
Copyright (c)ARTHUR LAWN 2002

---
Index Page


Classic Racers