!-index.html TEXT-> <!-UPDATE 1999.8.14->


Honda CB72 racer


Alec Australia

---
My classic CB72 racer just after it's full restoration in January 1998. I raced it for a full season in 1998 culminating in a 4th at the State Championships and a 6th in the Senior 500cc class which I was quite pleased at. It runs machined 500/4 high-comp pistons, CYB810 factory camshafts, Terry valve springs, built-up gearbox, CB360 clutch, Keihin 30mm carbs on AVGAS, ported head, megaphones, total loss ignition, dual points with fixed advance, Koni 'Special D' alloy body shocks, Akront rims, gold anodised spokes, 2520V brake linings and reverse pattern right side gear change (1 up - 3 down).
1999/8/25 Alec

---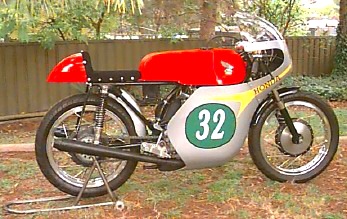 ---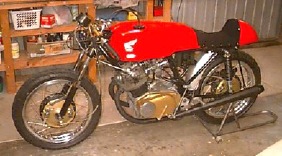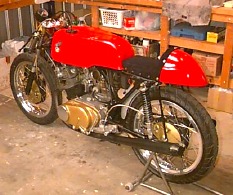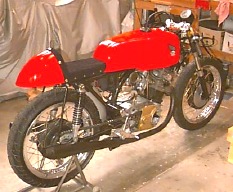 The pictures of it in the garage without the fairing were just after I had the Manx tank and seat restored before the fairing was finished. I used 2-pac for the red under 2 clear coats and suede for the seat in the classic pattern. I had just finished rebuilding the engine and replaced all the low-stressed nuts and bolts with A2/40 stainless steel.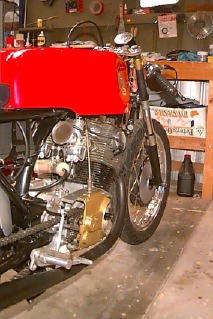 The only thing I have really done since these photos were taken was to vent the front drum brake with 6 air-holes which has really improved the long-term braking. The bike has run faultlessly and proved very consistent and ultra reliable and being in a fully restored condition - draws a crowd especially when the megaphones are doing their job! I've always run under number 32 (double 16) being Robbie Phillis' race number.

---
November 1998 when I came 4th in the State Championships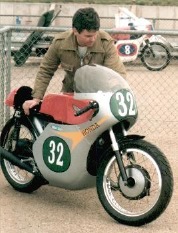 The picture of me pushing the bike was when it was very cold (hence the jacket) just before practice early in the morning.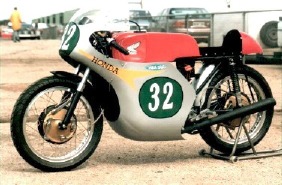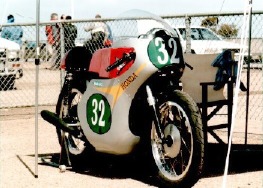 ---
Weiss500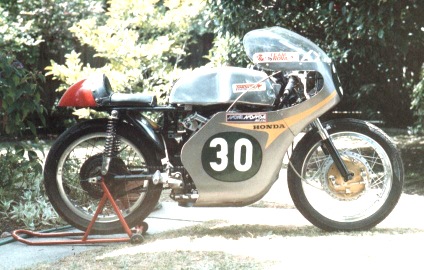 This is a CB72 bored out to 500cc!! It had many special parts including an alloy tank and it ran on methanol. It set records at many tracks and won many races (but is not mine).

---

Copyright (c)Alec 1999

---
Index Page


Classic Racers